Matthew Stockman/Getty Images
When it comes to the Israeli delegation of tennis players, they are small in number but strong in loyalty and determination, most especially for their homeland.
For the three Israeli athletes -- recent Australian Open doubles champions Jonathan Erlich and Andy Ram, and top 20-ranked Shahar Peer -- fulfilling their naturally appointed role as Israeli world ambassadors is all pleasure and never a burden.
It has become the norm that wherever the ATP or WTA tours might be on a given week, the Israeli players will receive enthusiastic support from the local Jewish community.
On the eve of this week's Sony Ericsson Open, which got under way Wednesday, the three prominent Israelis gathered to take part in a special ceremony to honor their achievements at Beth David Congregation, a conservative temple located in the heart of Miami.
Erlich and Ram became the first Israelis to win a Grand Slam doubles title with their success Down Under, although it should be mentioned that Ram had previously reeled in two mixed-doubles trophies at majors. As for Peer, she recently made history by becoming the first Israeli player to compete in an Arab country when she played the Doha, Qatar, tournament in February, reaching the quarterfinals.
"Especially in the U.S., most of the Jewish community comes out and says hello and welcomes us," said Erlich, waiting in the lobby of Beth David for the evening festivities to begin. "This is ... a little bit more unique than normal, especially because it is in a synagogue. I think it's really nice and I'm very excited to be here.
"I think that is what is so special in Judaism and our community around the world, anywhere we go, we are welcomed and we feel like brothers. One American, one Israeli, one South American, we feel so together and united, and I think that's unique to us around the world."
Ram described the enthusiastic scene when he and Erlich returned home from their Australian Open victory as "crazy," mentioning phone calls from top government officials, rooms of reporters seeking interviews and additional perks: "We've become even more celebrities now in Israel -- we were famous but now it's become even more so. It's nice, it's part of the good thing in the sport. We go back to Israel and everything is for free now. I went to cut my hair and it was free.
"It was very big for us, for Jonathan and myself because winning a Grand Slam is the biggest thing and we achieved it, but it was also very big for Israel."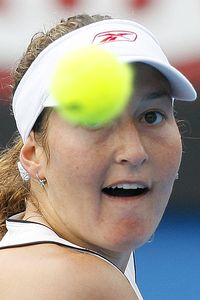 AP Photo/Mark Baker
Sheer Peer has been ranked as high as No. 15 in the world and has three career titles on her résumé
The event at Beth David also celebrated Erlich and Ram for founding the Jewish Sports Foundation, a non-profit foundation based out of New Jersey that has a noble if uncommon goal: "The mission of the Jewish Sports Foundation is to provide assistance and support for young Jewish athletes who show a financial need and dedication to academic excellence."
"As a child, when I saw some athletes, even if they were not Israelis but I knew they were Jewish, it was something special in my heart, and we want to see more Jewish children around the world playing sports," Erlich said.
Ram acknowledged that part of their goal is to change the perception that Jewish people don't gravitate to athletics -- even the front page of the foundation's pamphlet reads: "My son the athlete. Words you never heard your Jewish mother say."
"We want to break the stereotype that Jewish people only go to be lawyers or doctors, or they are all rich," Ram said. "We know it's not like that. I think that through sports, people can achieve good things."
Interestingly, the reason the doubles duo set up their foundation in the United States is as a show of gratitude for everything they received from America during their formative years.
"We grew up at our tennis centers, which were all built from donations that American Jews sent for kids to be able to play tennis in Israel," Ram said. "So, we feel like it will be nice to give back something to American kids."
On Wednesday, Erlich and Ram were scheduled to put on an exhibition for kids at the Michael-Ann Russell Jewish Community Center in North Miami Beach, Fla., where they made their first donation: a $25,000 check to sponsor the JCC Maccabi Games this summer in San Diego, Detroit and Akron, Ohio.
"As an American Jew who has been involved in fundraising for more than 30 years, we've always raised money for Israel," said David Schultz, the executive director of the Jewish Sports Foundation. "This is the first time that I know of that Israelis have come to us and said, 'We want to give back to the American community for everything they've done, and I think that's just spectacular."
Peer also delights in, but admits some surprise to, the constant attention given by people who want to cheer for an Israeli. And she doesn't hesitate to say that their hospitality goes a long way in making a place that's far from home seem exceptionally friendly.
"It's really nice to meet the people and it's so nice for us that they come out and support us," said Peer, dressed in a summer white minidress despite the unusually chilly temperature in South Florida. "Like tonight, this is a nice occasion, and I'm so happy to be here."
For many of the 100 or so people in the audience during the reception -- attendees included Ofer Bavly, the consul general of Israel -- there was great admiration for Peer and her decision to push to play the event in Qatar, a country known for restricting entry to Israeli citizens.
Accompanied by her brother Shlomi, Peer found the Doha trip fascinating.
"It was the first time for me in a Muslim country like that," Peer said. "It was a very nice experience there and they really took care of me very nicely, so it was good. My dad and my agent arranged everything for me to make the trip. My dad, he wanted me to play there."
For Bavly, the opportunity to pay tribute to the three Israeli players was a chance to beam about Israel's best and brightest without having to address the usual heavier subjects such as strife and politics.
"I think that Israel is so much in the headlines and in the news for violence, for peacemaking, for political reasons, that when we do have the chance to show another face of Israeli society, and something we're really proud of like our sports personalities, our actors in Hollywood, etc., this is something that Jewish communities appreciate," Bavly said.
"It gives them a chance to stand next to Israel, and hug Israel. They asked me to come and say a few words and I was glad to do it because I'm very proud of the Israeli achievements in sport. This is a good showcase to show people that Israel is not just about war; Israel is so many other things."
http://sports.espn.go.com/sports/tennis/news/story?id=3315202